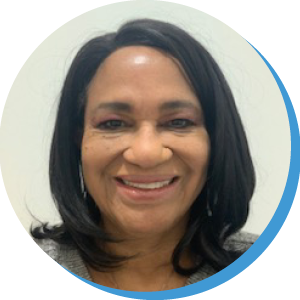 Sheilah D. Vance, Esq. | Chairperson
Sheilah D. Vance, Esq., has provided trusted counsel for educational institutions for many years through her law firm, Law Offices of Sheilah Vance, and as an administrator. She currently serves as the Compliance Officer and Title IX Coordinator at the University of the District of Columbia, Office of General Counsel. Sheilah works with the UDC campus community to prevent and address instances of discrimination on behalf of all protected classes, including sex discrimination and disability discrimination. A member of the Bar of Pennsylvania and of the District of Columbia, Sheilah holds a Bachelor of Arts in Communications from Howard University and a Juris Doctorate from Georgetown University Law Center.  
After working for many years as a journalist, mainly covering education, Vance began a career in education law and administration. She has worked as Chief Officer for Compliance and EEO at Stockton University in New Jersey, where she was also the University's Title IX Coordinator, Title VI Coordinator, and EEO/AA Coordinator, responsible for compliance with New Jersey's EEO/AA laws. She also worked on overall university compliance in other functional areas along with the Office of General Counsel. Sheilah served as Chief of Staff and Deputy to the President at Cheyney University of Pennsylvania, where she was also Title IX Coordinator, Social Equity Officer, Clery Act Team member, Right-to-Know Officer, and Campus Coordinator for the Fraud Incident Reporting System of the Pennsylvania State System of Higher Education. She also worked at Villanova University School of Law as Assistant Dean for Academic Support and as a Legal Writing Professor. She continues to teach Education Law at Villanova Law School as an Adjunct Professor. Sheilah also previously served as Special Assistant to the Pennsylvania Secretary of Education and as President and General Counsel of the Institute for Educational Equity and Opportunity.
Sheilah is a member of the Advisory Board of the Association of Title IX Administrators (ATIXA) and an Affiliated Consultant with TNG Consulting. She is the founding Chair (2017) of the Education Law Committee of the Philadelphia Bar Association and served as co-chair through 2022. She has served on the Board of Directors of many organizations, including the Public Interest Law Center of Philadelphia, The Philadelphia Foundation, and Teach for America. Sheilah also received the 2006 Woman of Distinction Award from the Barristers Association of Philadelphia for "exemplary service to the community through the practice of law" and "impressive personal accomplishments as an African American attorney."
She has written and presented extensively on Title IX, the Clery Act, education law, and legal education and has taught numerous continuing legal education courses on these subjects.
A history buff, Sheilah is the author of several award-winning novels and nonfiction books. Most recently, she has been writing and presenting about the Revolutionary War, particularly about the participation of African Americans and about the 1777 encampment at Gulph Mills, Pennsylvania, where she grew up. Vance was the speaker at the 2022 Juneteenth program for the Federal Energy Regulatory Commission, and she also spoke at the 2021 symposium of the National Park Service and the Association for the Study of African American Life and History on African Americans at Valley Forge.