REACH Act Coalition Drives Federal Anti-Hazing Legislation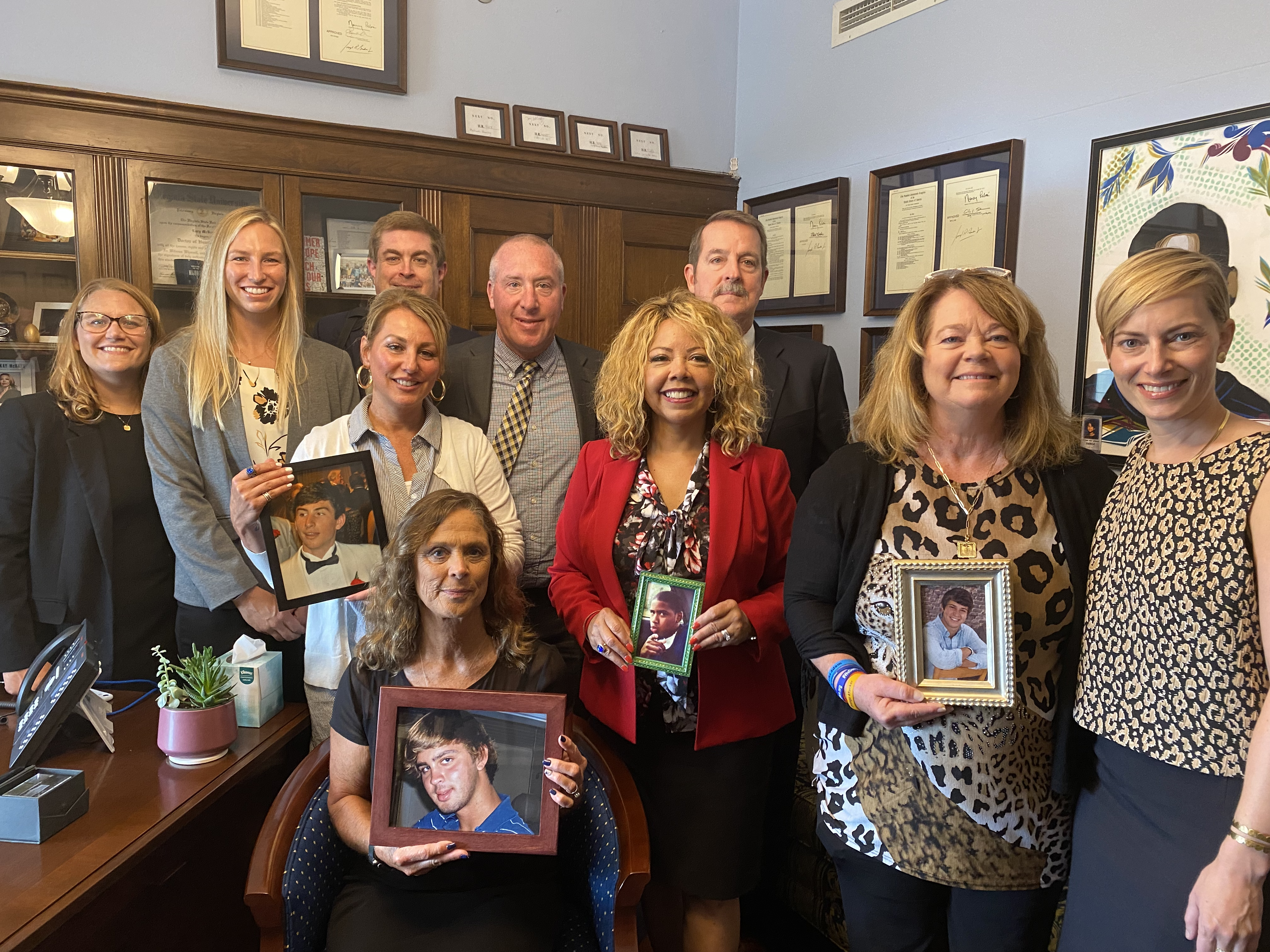 Parents of hazing victims and campus safety professionals from Clery Center, StopHazing, and SAFE Campuses, LLC, supporting the REACH Act with House sponsor Rep. Lucy McBath (D-GA 6th) on Capitol Hill July 27, 2022.
WASHINGTON, DC (September 6, 2022)  Clery Center, StopHazing, SAFE Campuses LLC, ZeroNow, and 34 additional national campus safety organizations are supporting the adoption of the Report and Educate About Campus Hazing (REACH) Act, H.R. 2525 / S. 744, which would require hazing incidents to be reported as part of a college's annual crime statistics and establish a comprehensive hazing prevention education program. The bipartisan, bicameral legislation is being led in the Senate by Senator Amy Klobuchar (D-MN) and Senator Bill Cassidy (R-LA), and in the House by Representative Lucy McBath (D-GA) and Representative Jeff Duncan (R-SC).
Parents and advocates travelled to Capitol Hill in July to share personal stories of hazing and to highlight the urgent need for federal legislation. Among those who met with lawmakers were Julie and Gary DeVercelly, Sr., parents of Gary Jr., who was killed in a fraternity hazing ritual in 2007; Cindy Hipps, mother of Tucker, killed in 2014, Kim and TJ Burch, parents of Nolan, killed in 2014, Marie André, mother of George Desdunes, killed in 2011, and Eric and Linda Oakes, parents of Adam, killed in 2021.
"We believe hazing can be prevented," said the DeVercellys. "The more time passes before legislation is enacted, the more likely it is that students will be emotionally and physically harmed or killed by these senseless acts. Congress must move quickly to save lives."
The DeVercellys sit on the board of the nonprofit Clery Center and have dedicated their lives to the prevention of hazing since the death of their son. Their goal is to ensure that no other parent has to experience the unbearable—and preventable—loss of a child to hazing.
Senators Lindsey Graham (R-SC) and Susan Collins (R-ME) joined as co-sponsors of the Act after meeting with the group of parents and advocates. Also co-sponsoring are Virginia Democratic Senators Mark R. Warner and Tim Kaine, who were galvanized by last year's tragic hazing death of Virginia Commonwealth University student Adam Oakes and cited the importance of transparency and accountability in hazing incidents. A full list of co-sponsors in the Senate and co-sponsors in the House of Representatives can be found in the links above.  
The REACH Act currently sits with the Senate Committee on Health, Education, Labor and Pensions and the House Committee on Education and Labor. Heartened by the broad support of the bill from both sides of the aisle, the REACH Act coalition will head back to the Hill the week of September 19. Those unable to call on their representatives in person should keep in mind that politicians have a vested interest in listening to the voters who elect them. Those who want to stop the harmful consequences of hazing that occur far too often on our college campuses can make a difference by emailing their Senators and Representatives today and urging them to pass the REACH Act now.